As part of a collaboration between the Omidyar Network and MFA Products of Design at School of Visual Arts, this is a design research project investigating how to reveal, amplify, and foster healthy patterns of social interdependence, focusing on non college-bound youth.
Project Lead: Jennifer Rittner
Collaborators: Alexia Cohen, Will Crum, Andrew Schlesinger, Mayha Soltani, Qixuan Wang
INTERDEPENDENCE
Throughout the project, we defined a healthy interdependence as:
- Awareness of the invisible threads that bind us together
- A balance of power dynamics in which we recognize that we are co-equals in a collective endeavor
- Embracing pluralism
RESEARCH
The culmination of our research created 5 guiding goals and underlying principles to drive design proposals. We also identified the conditions necessary to create functional interdependencies.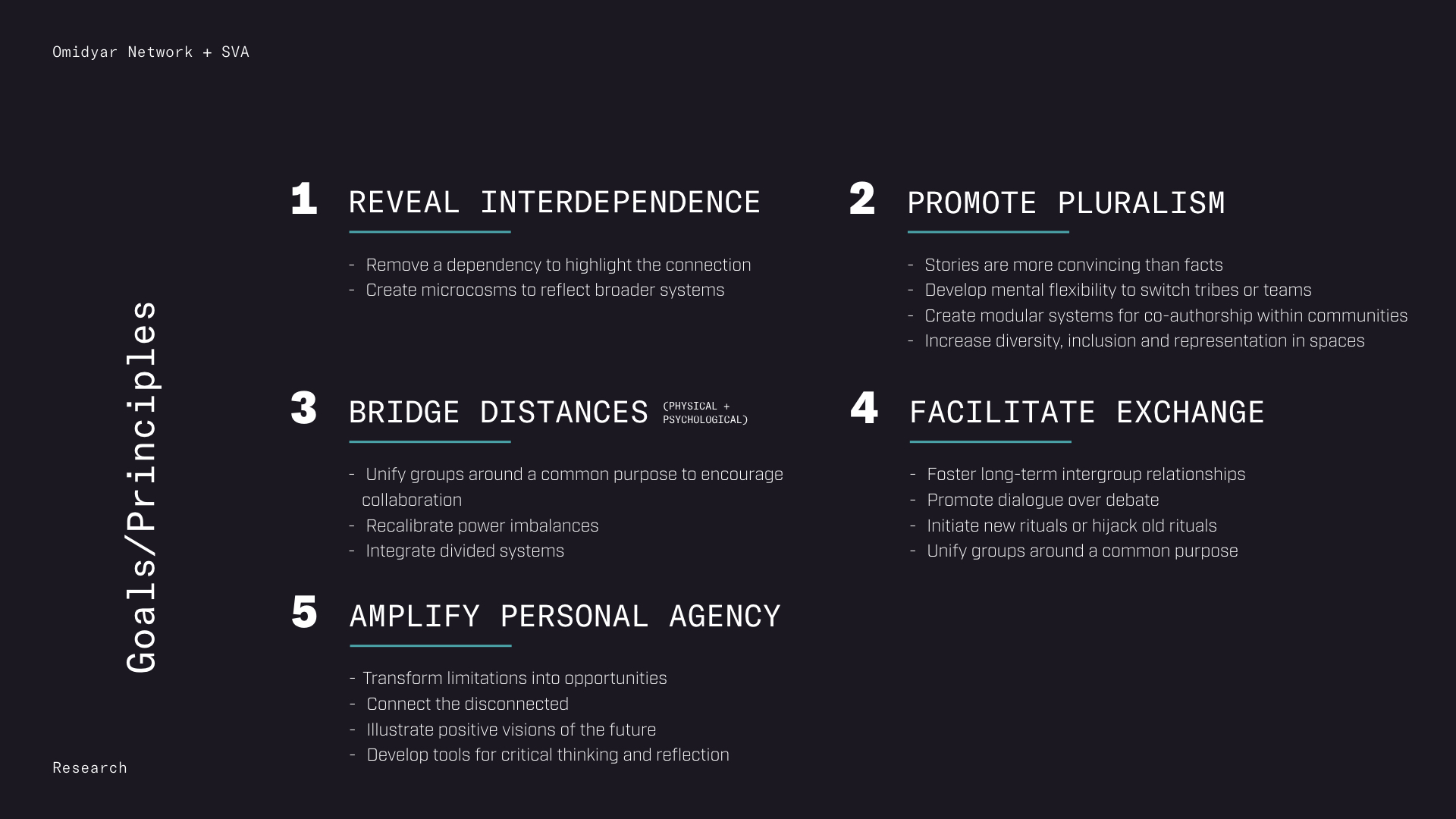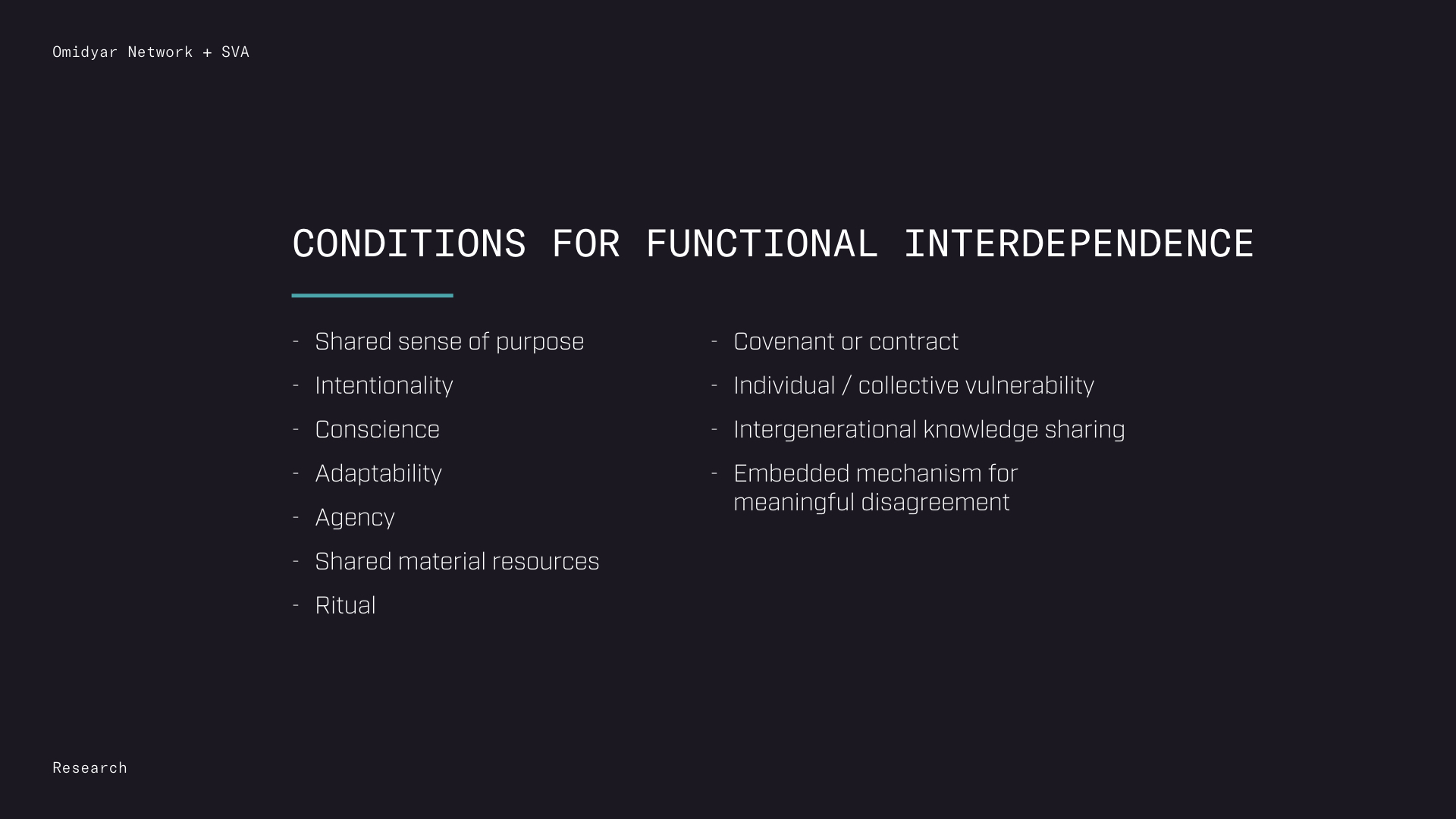 PRIMARY RESEARCH
Our team conducted individual arranged interviews, a public intercept intervention and a group workshop as a means to hear from target users.
We developed 4 worksheets, along with question prompts, to facilitate the conversation around interconnectedness, community, comfort zones, and influences in our lives to enhance the research process.
SECONDARY RESEARCH
Omidyar Network provided a host of white papers they co-authored as a jumping off point. Additionally, our team dove into a wide range of readings from Toni Morrison's evaluation of 'othering', to Kwame Anthony Appiah's philosophical interrogation of one's identity, to author George Orwell's assessment of nationalism, and contemporary works on pluralism. Our readings included academic papers, essays, articles, and books.
SUBJECT MATTER EXPERTS
We had the privilege of speaking with thought leaders who shared their own observations and hopes as they encounter interdependence in their work.
DESIGN PROPOSALS
The team developed and designed 15 proposals for Omidyar Network's review, structured by micro to macro level intervention and focused on achieving the 5 goals outlined earlier. We also highlighted near and long term measures of success for each project if implemented.
Please review the proposals in more detail within the compilation book below.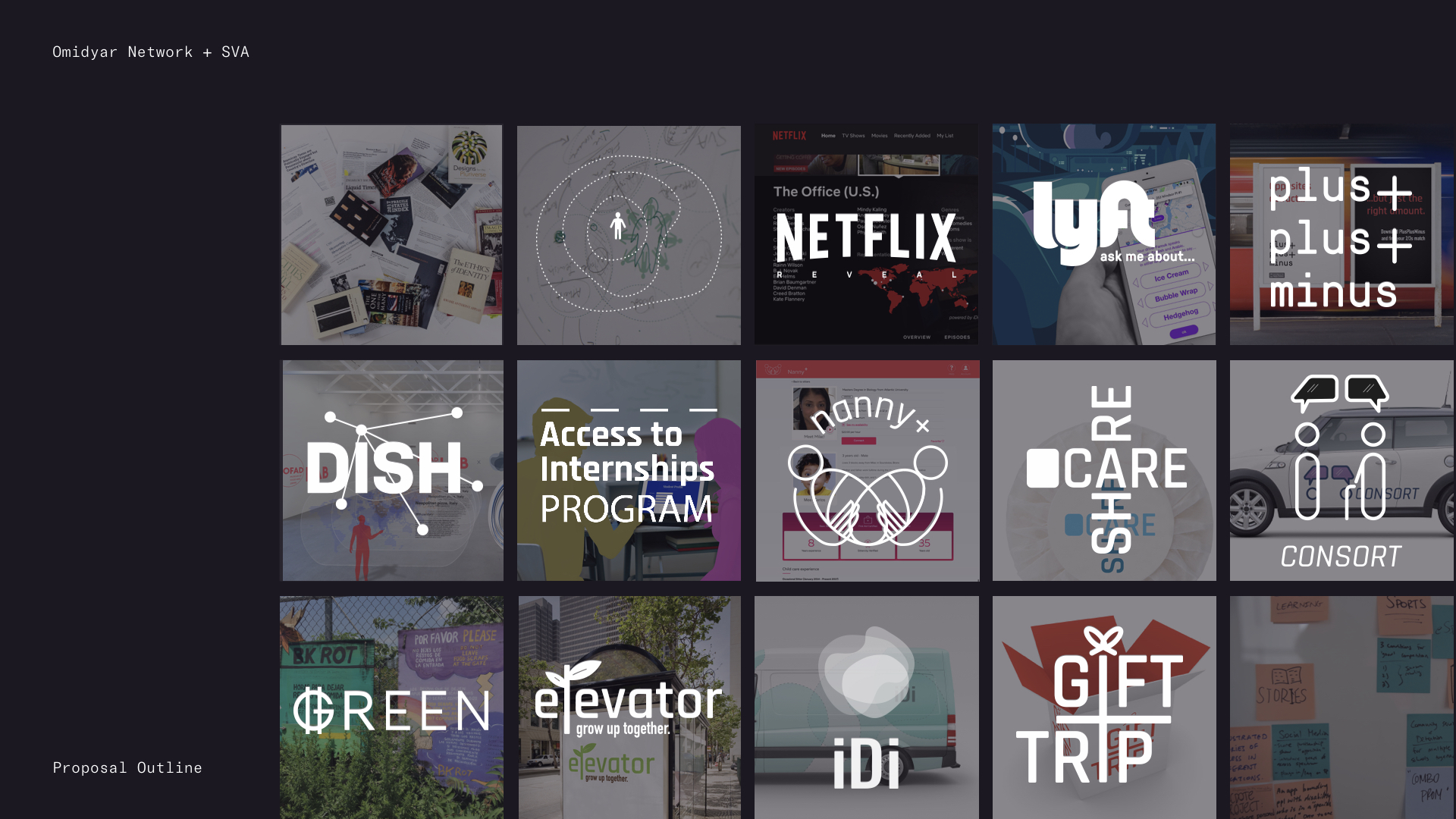 COMPILATION BOOK
Our work was compiled into a single book which provides further detail to our research and intervention proposals.
Please view in full screen mode for optimal interface